Four Head Positive Displacement Liquid Filler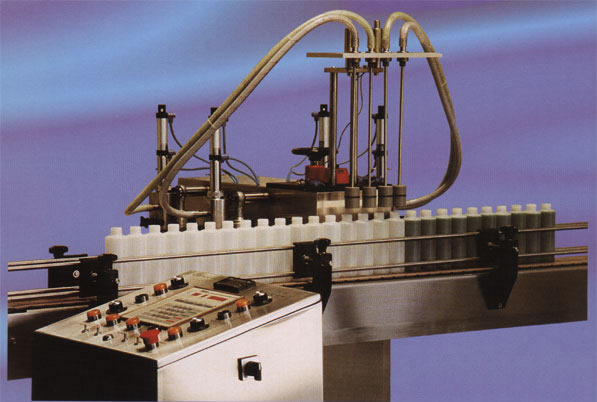 Features – 4 Head Positive Displacement Liquid Filler
Rigid body construction from Stainless Steel.
Electrically driven by powerful 1.2kw motor.
Comes Complete with 2400mm conveyor belt.
Capacity
Up to 1 Litre per head fill capacity (optional up to 2 litres per head, depending on product).
Specifications - 4 Head Positive Displacement Liquid Filler
All Parts in contact with product are machined from high quality 316
Stainless Steel.
High flow positive shut-off spool valve.
Easy dismantling and assembling without the use of tools.
Chainless gearbox drive.
Easy to program user friendly control unit.
Fine tuning while machine is in motion.
Volume adjustment on each individual head while the machine is still in motion.
Can be interfaced with check weigher for automatic weigh control.
Separate console for better positioning and operator comfort.
Numerous programs can be stored in control unit.
Automatic Two Head Liquid Filler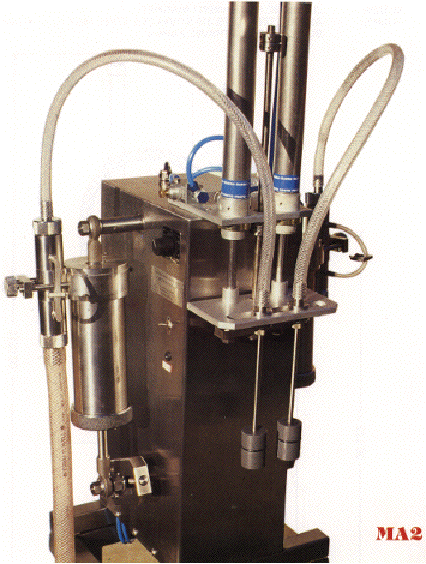 Liquid filler Capacity
50ml to 2 litres per head
Features
Compact design – Two cylinders mounted vertically either side of the
machine cabinet.
Positive Displacement – Pistons driven by cranks connected to direct drive gearbox – Electric motor, variable speed, 2 H.P.
Positive Shut-off Spool Valves suitable for suction lift or gravity supply of
product to be filled.
Bottom-up fill nozzle assembly easily adjusted by hand wheel.
Large range of nozzles – including positive shut-off nozzles.
All valves, cylinders & pistons come apart for easy cleaning.
Available with conveyor, capping, labelling and accumulation table.
Liquid filler Specifications
Wetted parts all manufactured from 316 grade stainless steel.
Easy clean flush front bottom-up fill and machine cabinet.
Product inlet manifolds available – Including tri-clover clamp connectors.
Programmable Logic Controller (PLC) Standard – Technically advanced
electronic camshaft controller available as an option.
Pneumatic automatic gating and Photo-Cell – "No Container – No Fill".
Bottom-up fill adjustable from conveyor level to 300mm high.
Nozzle descent error activates safety switch – Minimizes spillage.
Machine mounted on screw levelling jacks or with lockable castors.
Filling capacities range form 15 units to 40 units per minute depending upon size of containers and characteristics of products.
Filling accuracy ± 0.5%.