Fully Automatic High-Speed Cap Tightener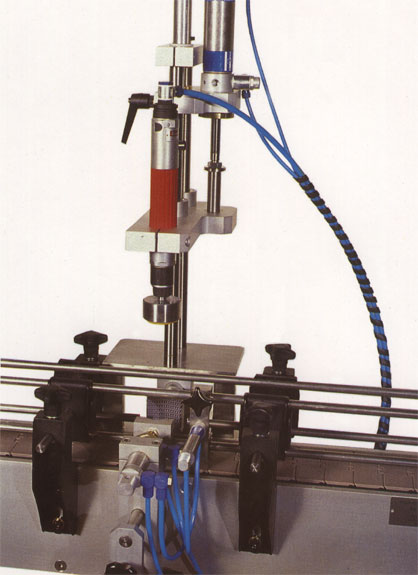 Features
Automatically tightens caps that have been placed on the container manually by an operator.
 Simple hand adjusted torque control for setting correct tensions for various caps.
Easy change over of container clamps where additional clamps are required for a wide range of containers.
Chuck sizes for a wide range of caps.
Supplied with variable speed drive conveyor or installed on customers
conveyor.
Specifications
Tightens caps automatically up to 60 caps per minute.
Cap sizes range from 20mm to 100mm diameter.
Height adjustable by handwheel for containers from 50mm to 300mm high.
Robust Stainless Steel and Anodised Aluminium Construction – Quality Components.
PLC and Pneumatic Controls – User friendly control panel – Emergency Stop.
For Flame-proof applications – all pneumatic controls.
Automatic pneumatic gating – Photocell or pneumatic switch.