Automatic Pick & Place Capper with Automatic Cap Sorting.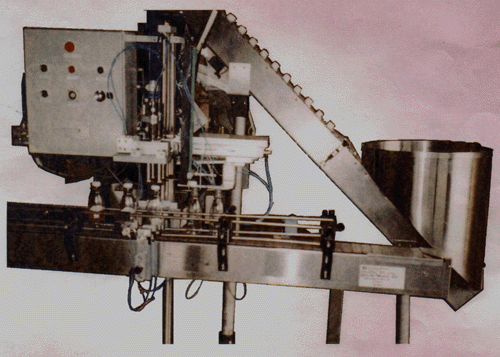 Features
Automatic pick & place capping with adjustable torque controlled tightening.
Minimal change parts and set-up time – No costly extra components.
 Can be used for automatic tightening of pump type caps by selection switch.
With conveyor or installed on customers conveyor anywhere in Australia.
Simple automatic cap sorting conveyor – easy adjustments – hopper loading.
Specifications
Automatic sorting and capping – Throughput up to 40 caps per minute.
 Cap sizes range from 20mm to 100mm diameter – no chuck tighteners.
Automatically caps containers from 30mm to 100mm diameter – all shapes.
Stainless steel and anodized aluminium construction – quality components.
PLC and pneumatic controls – user friendly control panel – emergency stop.
Variable speed operation – Automatic gating – photocell – torque control.